B12
The market demanded a powerful and rugged belt sander for larger jobs, and we responded with the Galaxy B12.
Same Machine, Brand New Look!
The 12" drum enables the floor sanding professional to cover 50% more surface area per pass than an 8" belt sander. Features include a 7.5 HP stall proof motor, patented tracking tension roller and a flat belt pulley system for more efficient power transfer. Modelled after the Omega 8, the B12 shares the same technology, but in a 12" machine. The Galaxy B12 is tough and delivers optimum quality with even less effort and time involved.
Tough
Delivers optimum quality
Requires less effort and takes less time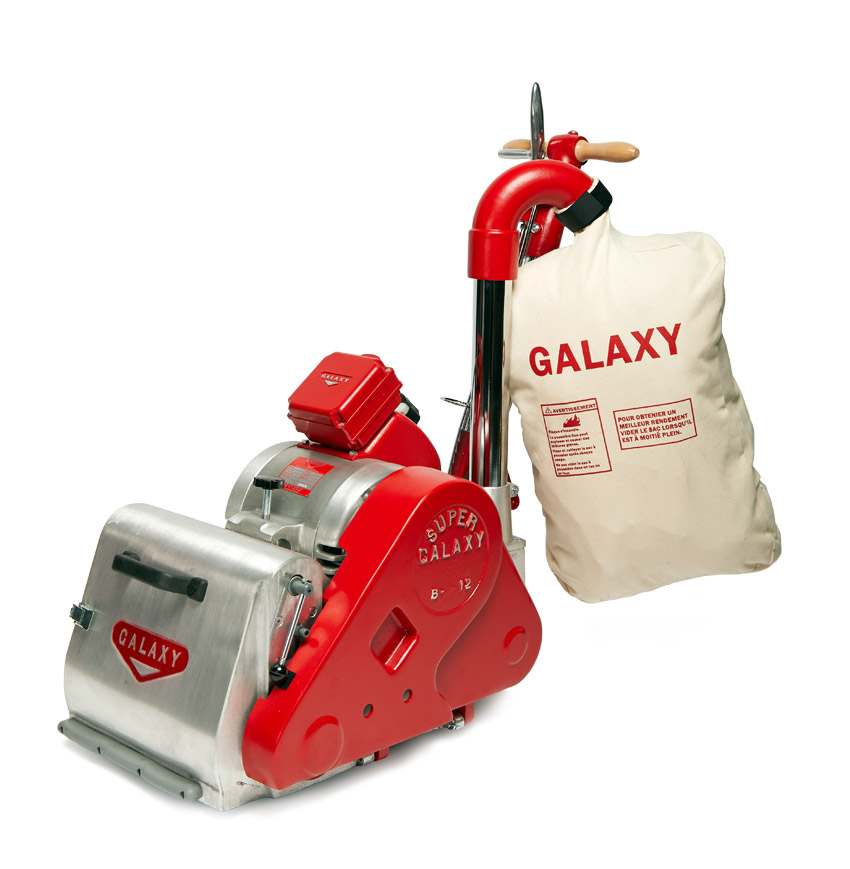 ---
B12 Belt Sander Features
7.5 hp Motor
At the heart of all our floor sanders is a single phase, 7.5 hp motor, custom manufactured by Galaxy. This heavyweight exceeds the 4.5 hp industry average by over 66%! An optional 3-Phase 9.0 hp is available for industrial applications.
By loosening two release pins, the motor easily detaches for speed and ease in disassembly and one-man transportation. More power, more torque, perfectly balanced with drum speed and drum pressure provide a real performance advantage.
Optimum Weight Distribution
Galaxy floor sanders are known for their solid build and weight behind them. This design advantage ensures stability and gives the floor sanding professional an aggressive cut. Optimum weight distribution is critical to performance, as physics testifies. Galaxy machines are ideally balanced keeping the drum fixed on the floor, to deliver the best cut and sanding performance. With our drum pressure mechanism, you can control the depth of cut by simply pulling a lever. No external weights are required.

Belt Tension Mechanism
Galaxy machines have a self-aligning and externally adjustable belt tension mechanism that allows the operator to adjust belt tracking during machine operation. Minimal interruption required for belt tracking adjustments.

Dustless Elbow
A swivel, dustless elbow coupled with double wiper seals provides you with a further dust control measure, eliminating dust leakage for reduced clean up time.

Ergonomically Designed Handles
Handles are positioned at the perfect height and distance apart for optimal control and comfort, helping to relieve back strain.
---
The Galaxy Warranty
We have such confidence in our equipment that we offer a one-year warranty* on all of our products. In addition, our large floor sanders have a five-year motor winding warranty.

* Excluding normal wear and tear parts, such as bearings belts, and switches.

** Limited to defects in materials and workmanship under normal operation.
---
Specification
Motor Data

7.5 HP, 240 Volt, 60Hz, single phase, 1725 RPM (Standard)
5.0 HP, 240 Volt, 50Hz, single phase, 1450 RPM (Optional)
9.0 HP, 208 Volt, 60Hz, three phase, 1725 RPM (Optional)
Air cooled, permanently lubricated bearings
Capacitors: 1 Running, 1 Starting, and 1 Electronic Staring Circuit

Tension Roller

Self Aligning & externallly adjustable tracking while machine is operating. Upper tension roller is easily removed for maintenance.

Drum

Electronically balanced
7.4″ diameter
Speed – 2300 RPM

Chassis & Components

Polished premium quality alloy

Pressure Control

Infinitely adjustable

Dust Control

Vacuum Fan – 7,300 RPM, 450 CFM
Dustless swivel elbow – fitted with double "slide seals"
Heavy Duty sanding bag; Clean-out side cover

Drum Control

Lever Action – feather or grip handle

Drives

Poly groove belt pulley system

Wheels

Tough solvent resistand, urethane

Cable

90 ft 12-3 rubber coated, non-marking

Abrasive Sizes

11 7/8" x 29 1/2"

Weight lbs/kg

243/110
---